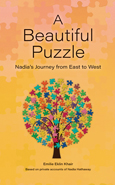 A Beautiful Puzzle – Nadia's Journey from East to West
by Emilie Eklin Khair

This memoir chronicles the path of Nadia and her family from Alexandria, Egypt, to Stockbridge, Georgia. It is, at its heart, an immigration story filled with hopes and sorrows. It touches on issues of religious intolerance, cultural difference, and racism. It is also very much a women's tale — of what it takes to be a supportive wife, sister, and nurturing mother, in the midst of constant flux. Nadia finds and loses great loves. She battles depression due to the harshness of the world and, oftentimes, her isolation. Her resilient spirit and her faith in God's ability to put all the pieces of her life together, drive her forward. She is still forging ahead at 80.
Elder Eye Press, 84 pages, paperback
---
It's Up To Us! – A brief guide to community leadership
by Tom O'Connell

It's Up To Us! is for people who are leaders, whether they call themselves that or not. It is for people who are already making a difference in their communities, or those just starting out. The book was designed with illustrative graphics to support the material.

Topics include:
• Leadership—a participatory approach.
• The "community" in community leadership.
• Leadership contexts: from social service to electoral politics.
• Social power: what it is; how to get it.
• Social values: developing a moral compass.
• How to build an effective organization.
• The art of reflection: sustainable leadership for the long haul.
Elder Eye Press, 121 pages, paperback


---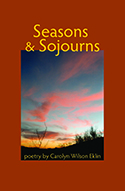 Seasons & Sojourns
by Carolyn Wilson Eklin

Seasons & Sojourns is a collection of poetry from the writings of Carolyn Wilson Eklin. The collection is comprised of four thematic sections: Nature's Gifts, Cycles of Change, Travel Moments, and Life's Flow. Both insightful and gentle, these poems speak to a universal spirit of curiosity and adventure, one that Eklin embraces.
Elder Eye Press, 107 pages, paperback
---
Who Says Men Don't Care?
by James V. Gambone, Ph.D. and Rhonda Travland
A REAL BREAKTHROUGH FOR MALE CAREGIVERS… A CAREGIVING GUIDE WRITTEN EXCLUSIVELY FOR MEN! What kind of caregiver are you? Are you the Manager, the Searcher, the Loner, the Techno-Virtual Caregiver, or some combination of all of the above? You can find out with the new Guide for male caregivers. While there are many excellent caregiving resources available for all kinds of diseases and illnesses, Who Says Men Don't Care? is unique because it is written specifically for four generations of male caregivers. The premise of the Guide is that men care differently than women, and these differences present both opportunities and potential problems in all male caregiving situations. Knowing who you are can make you a healthier and more balanced caregiver.
Elder Eye Press, 134 pages, paperback
---
Find What's NEXT For You: Business Owners Share Their Transition Stories
by Steve Coleman and James Gambone

In this book, small- and medium-size business owners representing many business sectors including service, manufacturing, production and distribution, share their succession experiences when transitioning from the companies they formed and managed for decades. Their successes, failures, and "lessons learned," make up the core of this timely book. It's an easy-to-read guidebook for what to do and what not to do when planning a business transition.
Elder Eye Press, 101 pages, paperback


---
ReFire Your Life!
by James V. Gambone

ReFire Your Life! A Guide For Those Who Can't Retire – Or Don't Want To, is a new version of Dr. Gambone's former book, ReFirement: A Guide To Midlife and Beyond.

This book contains over 100 activities to ReFire your life based on understanding your core values—those values learned at a fairly early age. Dr. Gambone also presents an interesting and challenging intergenerational vision of an aging society where generations cooperate with each other, and try and leave a legacy that protects the interests of generations yet unborn.

Don't retire—ReFire Your Life—is a message that will significantly impact America for years to come.
Elder Eye Press, 223 pages, paperback


---
Together for Tomorrow: Building Community Through Intergenerational Dialogue
by James V. Gambone, Ph.D.
Together for Tomorrow is a guide and information resource to help you break down isolation and separation between the generations. It presents a proven process for community building: the Intergenerational Dialogue™ process. Intergenerational Dialogue is a tool for joining all ages, cultures, races, genders and economic classes in problem solving and joint action.
In its fifth edition, this easy-to-use book is a valuable resource book for anyone working in the areas of: intergenerational programming; family relations; health & long term care; community education; community organizing; human relations training; public policy; healthy community initiatives; violence, alcohol, and drug prevention; social work; agricultural extension; aging networks; diversity initiatives; and homeland security.
Elder Eye Press, 202 pages, paperback
---
All Are Welcome: A Primer for Intentional Intergenerational Ministry and Dialogue
by James V. Gambone, Ph.D.
All Are Welcome is designed to be used by communities of faith. This book demonstrates how to break down isolation and separation between the 6 living generations found in congregations. It presents the Intergenerational Dialogue™ process as a proven tool for joining all ages, cultures, races, genders and economic classes in Intentional Intergenerational Ministry (IIM).
In its second edition, this 176-page, paperback book is a valuable resource for anyone working in the areas of: congregational education; stewardship; congregational revitalization & turnaround; missions; seminary education; community outreach; public policy; healthy community initiatives; asset development for youth & families; social ministry; spirituality & aging networks; and diversity initiatives.
Elder Eye Press, 176 pages, paperback


---
---
BOOKS COORDINATED
BY ELDER EYE PRESS SERVICES

The following are books that were not published under the Elder Eye Press imprint although the publishers used Elder Eye's concierge publishing services (editing, design, publisher imprint set up, and digital coordination) to produce the books.
Becoming Sinclair Lewis
historical biography by David Allen Simpkins, with Sally E. Parry and Jim Umhoefer
"How do we become who we are anyway?" asks Sinclair Lewis biographer Richard Lingeman in his Foreword to this fresh look at the early life and young adulthood of the first American to win the Nobel Prize for Literature. "How did a skinny, voluble, dreamy, acne-complexioned, paprika-haired, Yale-educated country doctor's son named Harry Lewis from Sauk Centre,Minnesota, become the world-class American author Sinclair Lewis?" To answer this question, Dave Simpkins, Lewis scholar and newspaper publisher from Sauk Centre, spent ten years researching and writing on this passion until his untimely death in 2018. That's when his close friend, Jim Umhoefer, agreed to pick up the baton to facilitate the completion and publication of the book. Another of Dave's friends, Sally Parry of the Sinclair Lewis Society, enlisted the help of Lewis scholars from around the country to pore over the text to ensure its authenticity. The result is an engaging, readable examination of the chapters of young Harry's life, from his prairie village youth to the dawn of his world-wide literary ascendance with the publication of his breakthrough novel, "Main Street."
Free Air Publishing, 256 pages, paperback
---
Turning Points: Never give up on anyone, especially yourself
autobiography by Greg Poferl
In Turning Points, the author, Greg Poferl, reflects back on kids at play during his growing up in St. Paul, Minnesota, in the 1950s and 1960s. It moves on to stories about his military service, labor struggles and strikes, directing youth in social justice theater projects, peace and justice actions, his sentence in federal prison, teaching social studies, and experiencing the overwhelming love of family during his 38 years of sobriety. Part Two includes Christmas stories written over 12 years, about a courageous wife, nine children, 35 grandchildren, and a wonder dog named Tana.
ESFL Press, 178 pages, paperback
---
Towers of Aging
poetry by Joseph A. Amato
Towers of Aging is a compilation of poetry by Joseph A. Amato. Writer Emilio Degrazia wrote in his Introduction to Towers of Aging, "in his senior residence, Amato sees up close the varied course of the aging of two hundred seniors. His poems are about them while being meditations on his own… aging. The Towers… proved to be a classroom of aging for Amato and an occasion for a poetic letting go."
Crossings Press, 88 pages, paperback
---
Reinventing the People's Library
historical nonfiction by Greg Gaut
WINNER OF THE 2020 GEBHARD AWARD! – a bi-annual recognition of Minnesota architectural history research by the Minnesota Chapter of the Society of Architectural Historians (MNSAH).
Reinventing the People's Library traces the history of the Arlington Hills Public Library – one of the branches of the St. Paul Public Library built by Andrew Carnegie – and its reinvention as the East Side Freedom Library, an institution dedicated to telling the stories of St. Paul's East Side, including the Dakota who first lived there, the European immigrants who settled the area, the African Americans and Mexicans who came between the wars, and the more recent Southeast Asian, Central American, and East African immigrants who are revitalizing the area.
ESFL Press, 148 pages, paperback


---
Buffalo Man: Life of a Boy Giant on the Minnesota River
historical novel by Joseph A. Amato
Buffalo Man is serious fun. It is about a giant child's growing body and awakening mind. In the spirit of Rabelais and Swift, Buffalo Man is the story of a Gargantuan child, aptly nicknamed Gar—who was born out of the sky in 1848. He lands in the pasture of a Métis trading post along the Minnesota River. The following chapters record Gar's upbringing, baptism, adventures, and education as a physical phenomemon and a dawning prodigy. Episodic, comic, ironic, scatological, and mystical Buffalo Man tells of the 1850s childhood of this Paul Bunyan of the river, living among the Métis, Natives, French-Canadians, new Englanders, and other European settlers along the Minnesota River during territorial times. A zany mix of myths, storytelling, singing, dancing, games, and jokes, Buffalo Man introduces the reader to Minnesota's last giant in a world that has no more room for giants. With client-provided illustrations and hand-drawn maps, Elder Eye designed this book to bring about a feeling of books that were published in the 1850s.
Crossings Press, 274 pages, paperback


---
The following book was created for a private organization and is not available for purchase by the general public.
Fox & Hounds: The Colorful History of a Revered Breakfast Club
Private history by the Fox & Hounds Breakfast Club
This book visually highlights 70 years of weekly gatherings of members of a unique breakfast club made up of esteemed businessmen from the Twin Cities (Minneapolis/St. Paul) area. Elder Eye Press updated the club's previously-published book with a more comtemporary layout, re-designed the club's logo, designed substantial additions to the book, and enhanced the quality of numerous photos. Elder Eye also coordinated its publishing as a print-on-demand book and created a digital interactive version.
154 pages, hardcover with jacket